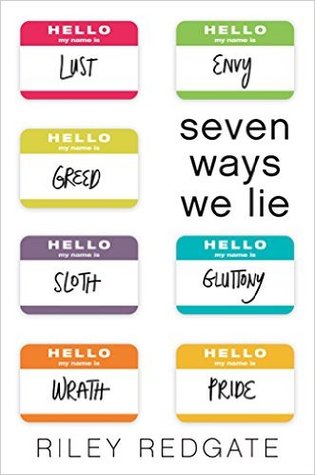 Seven Ways We Lie by Riley Redgate
Release Date: March 8, 2016
Publisher: Amulet Books
A Young Adult novel
Pages: 352
Genre: Contemporary
P

aloma High School is ordinary by anyone's standards. It's got the same cliques, the same prejudices, the same suspect cafeteria food. And like every high school, every student has something to hide—whether it's Kat, the thespian who conceals her trust issues onstage; or Valentine, the neurotic genius who's planted the seed of a school scandal.




        When that scandal bubbles over, and rumors of a teacher-student affair surface, everyone starts hunting for someone to blame. For the unlikely allies at the heart of it all, the collision of their seven ordinary-seeming lives results in extraordinary change.
*An advanced reader's copy was provided by the publisher for an honest review*
How would you feel if a rumor stemmed about a student-teacher relationship?
Well, we're gonna find out . . . seven different times. 
Seven Ways We Lie
follows, you guessed it, seven different point of views over a vast array of high school cliques and tropes. The sexual one, the thespian, the stoner, the model student, the jock who hasn't come out just yet, the "neurotic genius" as the synopsis says, and the anxious overachiever feeling out of the loop. Seven different stories connecting through a school wide scandal.